TLC Releases 'Meant to Be' Music Video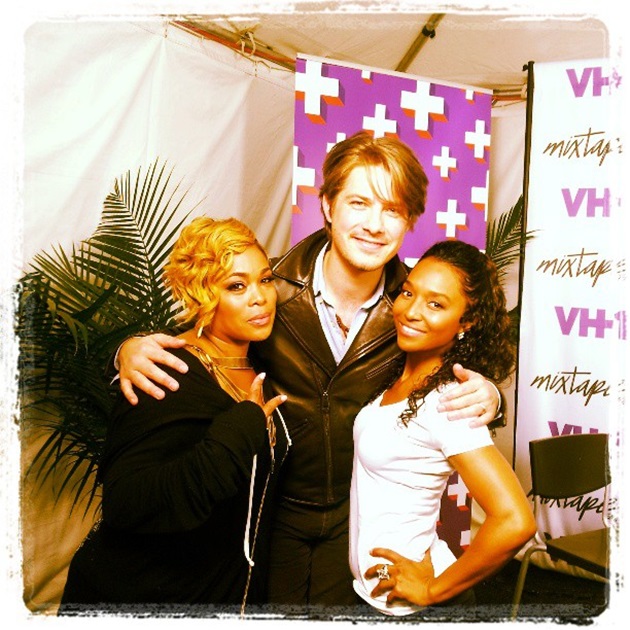 TLC has premiered the full music video for their song entitled "Meant to Be" which was produced by RnB singer and songwriter Ne-Yo.
The visual is very simplistic and features the surviving members Tionne Watkins better known as T-Boz and Rozonda Thomas famous under the name Chilli in a studio with the "Luxurious" singer as they record the hip hop popish sounding ballad.
As the ladies belt out their respective lyrics, never seen images of one of the greatest musical trios such as baby pictures or video shoots flash on the background to make fans feel nostalgic.
The clip ends with T-Boz giggling which someone for some strange reason it sounds like rapper Lisa "Left Eye" Lopes' voice.
"Meant to Be" was featured on the much talked about made for TV movie/biopic "CrazySexyCool," which was broadcast on VH1 on Monday night.
"CrazySexyCool," stared an unexpected group of actresses – T-Boz was played by Drew Sidora, the role of the late Left Eye was handled by rapper Lil' Mama, and Chili was interpreted by the multi-talented Keke Palmer.
The film focused on the rise and fall of the 5 time Grammy Awards winners who dominated the Billboard charts in the 1990s (the 90s RnB super-trio sold over 45 million album yet went through bankruptcy).
The highlight from the movie is definitely founding member Crystal Jones' horrible audition – which lead to her firing and being replaced with Chili.
Crystal Selene Jones is so upset by her portrayal in "CrazySexyCool," that she plans to sue the network and to write a book to explain that she was given the boot not because of her voice but because she refused to sign what she deemed were bogus contracts.
Despite failing to meet critics and couple fans' expectations, the flick is the highest-rated telecast in more than five years, with over 4.9 million viewers.
The duo who just released a greatest hits album called "20" which included classic hits like "Creep," "Waterfalls," "No Scrubs," "Unpretty," and "Meant to Be" is working a new songs for an album due out in 2014.