Rihanna Covers British GQ, Channels Her Inner Medusa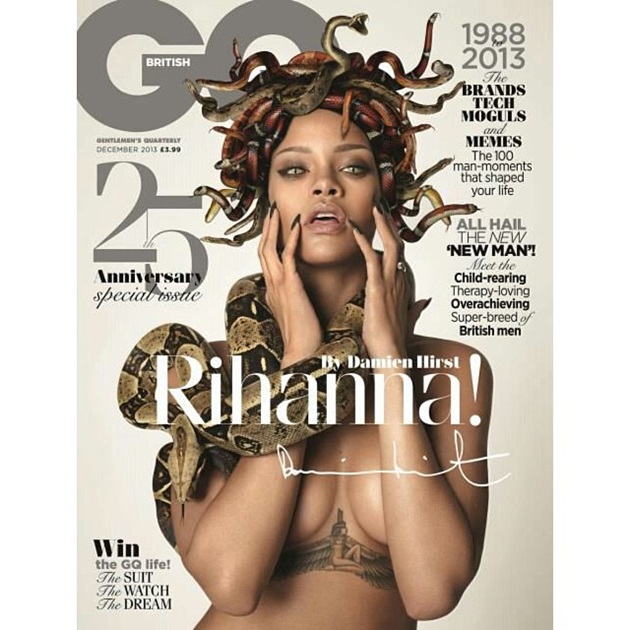 Happy Halloween from Rihanna who has just unveiled her freaky cover of the British edition of GQ magazine.
The Barbadian diva appears as a sultrier version of the Greek goddess Medusa on the 25th anniversary cover of British GQ which was shot by fame photographer and artist Damian Hirst.
On the cover the "Stay" singer can be seen topless, with several reptiles on her head with a boa constrictor around her neck sizing at the camera.
Inside the men's mag, the 25-year-old appears in her sexiest photo shoot yet – RiRi sporting vampire fangs, greenish contacts goes completely naked with a giant reptile conveniently well placed to hide her nipples.
The television star who unveiled the raunchy photos via her Twitter account captioned them:
"Medusa head on me like I'm 'luminati!!!! She. x Damien Hirst #GQ #25thAnniversary #COVER,I love playing with dominant animals! These 2 were double the trouble, but they're superstars!!! #snakez #GQ #RiRi #88babies #25thanniversary'."
The business savvy woman who will be taking her Diamonds World Tour to Puerto Rico then Barbados and eventually back to the United States next month has premiered her new "Project Runway"'s inspired reality show called "Styled To Rock" on Bravo.
The series has a star-studded judging panel featuring Mel Ottenberg who is Rihanna's personal stylist, model Erin Wasson, and producer and rapper Pharrell Williams and 12 designers who are competing for $100,000, and the opportunity to join the singer's staff.
In more Rihanna music news, her supporters will be happy to find out that her new collaboration with Rap music legend Eminem is titled "The Monster" and it will be debuting on Monday as the latest single taken from the Detroit born music star's upcoming "The Marshall Mathers LP 2" album that will out on November 5.
After pleasing hip hop music fans with "Rap God," that is considered a buzz single, it is probably safe that Em and his label are banking on a radio hit with "The Monster."
Rihanna is a queen when it comes to attracting the radio crowd and this time will probably not be any different.