Chris Brown Arrested In D.C. For Felony Assault After Breaking Man's Nose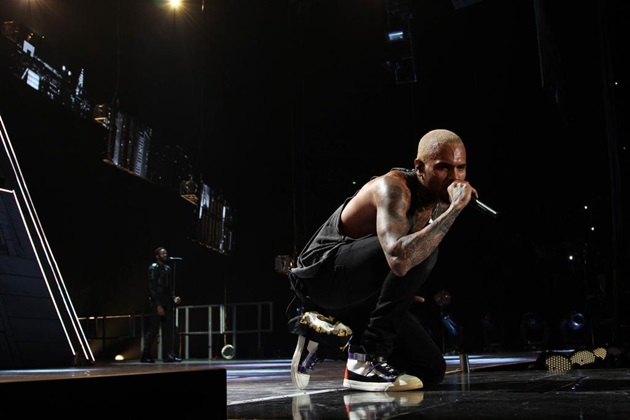 Earlier today Chris Brown was arrested for physically abusing a man in Washington D.C.
According to several reports, the 24-year-old singer who was in the nation's capital to host the Howard University Homecoming party.
As to what really happened, it is a tough case of he said, he said.
The unnamed victim told police officers who were called to the scene that after the event his two female friends spotted the Virginia born crooner and asked him for an autograph and to take few pictures with them.
As the trio was taking the photographs, the man who was beaten thought it would be a fun idea to photobomb them.
As he got close to the star, he received a punch that sent him to the cement floor.
The individual who never hit the entertainer also claimed that the "Deuces" singer hurled homophobic insults at him before knocking him out.
Chris Brown who recently stopped following his mother Joy on Twitter allegedly said:
"I'm not into this gay s**t, I'm into boxing."
The man is currently in a D.C. hospital awaiting surgery to repair his nose. He has already hired a lawyer and will press charges against his aggressor.
Authorities have confirmed that the controversial star was not under the influence of any substance – but he might have been suffering from a heartbreak after his split from his lover.
But Chris Brown's security personal is singing another tune.
The bodyguards tell celebrity website TMZ, that the altercation took place not because he wanted to pictures but because he was trying to trespass and get into the "Don't Think They Know" artist's tour bus with his friends.
The truth may lie somewhere in between.
Chris Brown and his bodyguard, Christopher Hollosy are still locked in jail until Monday morning because under the law they must first appear in front of a judge in order to post bail and set free.
The actor's on-and-off girlfriend Karrueche Tran took to Twitter to comment on the incident and blast those making negative comments. She tweeted:
I hate waking up to bad news

— Karrueche Tran (@karrueche) October 27, 2013
what is wrong with some of y'all? Did y'all parents not love y'all enough? Y'all gotta quit w this negative shit 24 fucking 7.

— Karrueche Tran (@karrueche) October 27, 2013
The charge could affect the release of his new album "X" on December 3 and could carry a four-year prison sentence for the songwriter and producer who is still on probation for assaulting his former-girlfriend Rihanna back in 2009.