Justin Bieber New Song 'Recovery' Samples Craig David's Hit 'Fill Me In'
After suffering from a Selena Gomez related heartbreak, Justin Bieber is now recovering according to the journal/song that he released on Sunday evening.
On his #musicmondays series, Justin Bieber (who has previously released "Hold Tight", "All That Matters", and "Heartbreaker") debuted a now song entitled "Recovery" that is now available on iTunes and if the beat sounds strangely familiar that is because the crooner sampled Craig David's 2000 mega hit "Fill Me In."
The emotional ballad features the "Baby" singer turning to a higher power and praying every night that the woman he betrayed and lied to would give him another chance.
Bieber who is apparently the reason why Miranda Kerr and Orlando Bloom split after 7 year, goes on to tell the scorned lady that if they ever rekindle their romance – he will never hurt again because he has learned from his errors and understood that he can not live without her.
Unlike the previous songs where the 19-year-old entertainer delivered a remarkable soulful and deep RnB sounding performance, Bieber got lazy and simply imitated David's distinguished trembling voice.
The Canadian star called "Recovery" one the most important tracks that he has ever composed in his career.
Justin who performed in a concert at the Estadio Progresso Stadium in Guatemala City, Guatemala last night shared with his 46 Million followers on Twitter: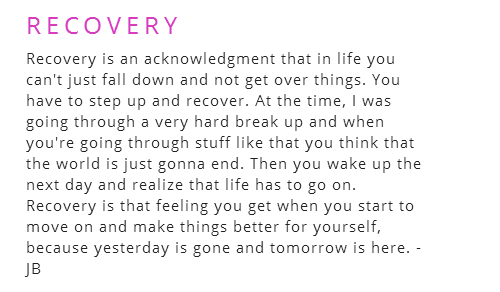 The Biebs has been doing some amazing charity works in the Latin American country and has been asking his supporters to give back to those in need.
The British singer and producer who was overwhelmed by the positive comments generated by his work, tweeted:
So many great memories flood back when hearing this guitar riff. Well done @justinbieber sounding great #Recovery #FillMeIn #MusicMondays

— Craig David (@CraigDavid) October 27, 2013
The young actor came up with the Music Monday concept in order to promote his forthcoming concert movie entitled Believe that will hit theaters on Christmas Day 2013.
You can listen to Justin Bieber's new song "Recovery" below, please tell us what you think of it in the comments section after the jump.