Rihanna Shares 032c Magazine Pictures, Covers Tribal Tattoos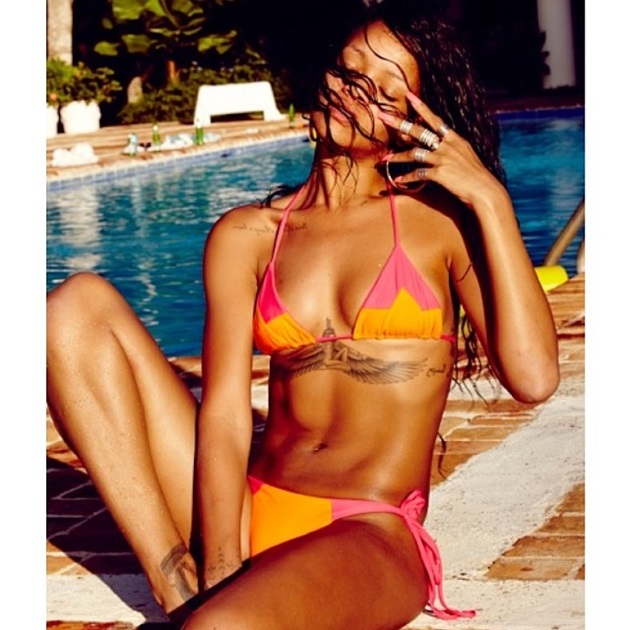 Just in time for Halloween Rihanna has unveiled her Gothic cover of German magazine 032c's Winter 2013/14 "Jubilee" issue.
The Barbadian star who simply can not keep her clothes on appears on the cover of the Berlin culture magazine braless with a black trench coat to hide her breasts.
Miss Fenty also did a hot photoshoot for the publication wearing what she calls ghettogoth.
In one photo Rihanna rocks a black Gucci coat, a huge vampire like metal cross choker necklace with blue lipstick smudged all over her face.
The series of photographs shot by Inez and Vinoodh, features the 24-year-old artist wearing her bizarre mullet (she has since dumped the 80s inspired do for a more modern weave) in a torn t-shirt/dress that reveals her boobs.
She made sure that her "thug4life" way of living pop out in one snapshot where she is wearing leather gloves and tying a bandana Tupac style on her head.
In related RiRi news, the "Rude Boy" singer who just few weeks ago went through the pain and agony of having a traditional tribal hand tattoo done in New Zealand with a chisel, ink and a mallet sat down for over 11 hours to have the traditional Maori tattoo made pretty – a move which must have angered the ancient tribes.
Rihanna who is currently on her Diamonds world tour, flew her longtime tattooists from New York City to the Dominican Republic on Sunday so they could work on her hand.
Talking to Page Six, Keith McCurdy and Cally Jo who are designers from the Big Apple's Bang Bang Tattoo explained the process:
"We designed something that plays over the knuckles and wrist, and just tried to incorporate it with what was done before.We blended what used to be there into a more decorative pattern. We tried to make it look like jewelry, a bit like a henna tattoo."
The fashion designer showed off her new tat during her concert in Puerto Rico concert on Monday.