Pebbles Camp Responds To TLC Movie Controversy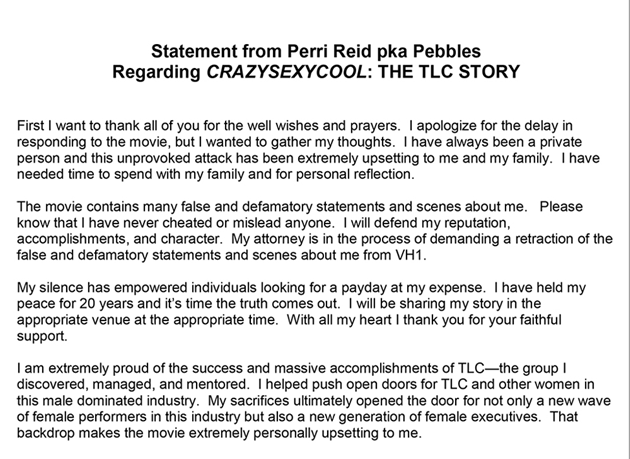 Have you been wondering what were Pebbles' thoughts on VH1's CrazySexyCool biopic? Here is the answer.
Perri "Pebbles" Reid who was the former manager of TLC said that she was hurt and betrayed yet she has no plans to publicly speak on the matter.
To put in mildly, the record-breaking TV movie which was produced by T-Boz and Chilli showed the former RnB singer as a greedy business woman who cheated the TLC out of millions.
L.A. Reid's ex-wife allegedly made the group pay $1 Million for the name TLC as they parted ways and mismanaged their fortune which lead them to bankruptcy at the height of their career.
The music exec issued a statement (read her full statement above) one week after the flick aired saying that she needed time to gather her thoughts before responding to the allegations.
Reid who is now a religious woman stated that she has contacted her lawyers who will handle this matter accordingly. The diplomatic statement read:
"The movie contains many false and defamatory statements and scenes about me."
She went on to confess that she has never stolen anything from her clients and indirectly announced that she will be suing VH1 for tarnishing her reputation. Her statement continued:
"Please know that I have never cheated or mislead anyone. I will defend my reputation, accomplishments, and character. My attorney is in the process of demanding a retraction of the false and defamatory statements and scenes about me from VH1."
Pebbles' daughter Ashley Reid was not as diplomatic as her mom. The famous photographer had a field day on Twitter with the dozens of TLC fans who were bashing her mother. Here are some of her tweets.
@NickiKelly you look like you'd be a great bodyguard. Are you job hunting? I might need your brute width since I'm so frail.

— Ashley Reid (@AshleyReidPhoto) October 22, 2013
@stevieb93 lmao do you spend your life being this lame and bored with your life to focus so hard on my family, or have you relapsed?

— Ashley Reid (@AshleyReidPhoto) October 22, 2013
@1klexus_ my mom was a thief? All the money my taxes have paid for your welfare, and you got the nerve to point fingers? Sheesh!

— Ashley Reid (@AshleyReidPhoto) October 22, 2013
Few more tweets from Miss Reid who went to the extreme to defend her family: