Ciara Pregnancy Rumors Swirl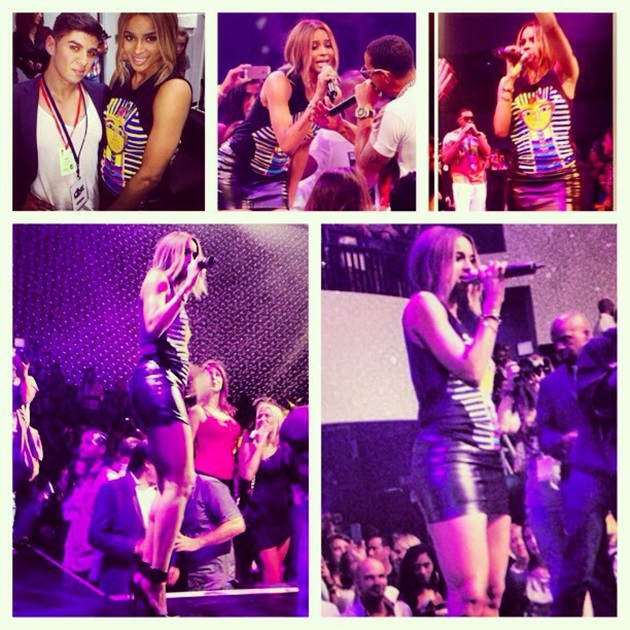 On Saturday a glowing Ciara took the stage in AbuDhabi with rapper Ludacris to perform some of her biggest hits.
The concert series was part of numerous festivities taking place before Sunday's Abu Dhabi Grand Prix which include famous drivers such as Mark Webber, Sebastian Vettel, Nico Rosberg and Lewis Hamilton who is dating Nicole Scherzinger.
According to the mountain of pictures that were posted on her Instagram account chronicling the trip, Ciara Princess Harris arrived in the Middle East via private jet and got ready with the help of her stylist for the show.
The 28-year-old entertainer from Texas wore a very short leather skirt with a pair of killer heels that showed off her endless and toned legs, but all the focus was on the top half of body.
The "Body Party" star who is apparently pregnant for fiance and rapper Future wore a pleaded black/sleeveless top with an Egyptian imprint on the front that seems to be hidding her baby bump.
Ciara had a change of wardrobe during the event – in order to better conceal her growing belly she sported a black baggy shirt and long matching pants.
Fans at the concert confessed that that the diva was very energetic on stage and friendly to the audience members. So is she pregnant or not?
In a new interview with MTV, Nayvadius "Future" Cash was asked if Ciara was expecting – he replied by saying that a rumor is just a rumor.
But he was happy to talk in length about the massive 15-carat emerald cut diamond designed by Avianne & Co which he gave his leading lady on her birthday:
"I feel different but it's great. It's a great situation and I'm happy about it. I'm excited about it and I know she's super happy.I just feel good to be able to make someone happy.She was definitely surprised. I've been planning it for a minute, I took some time, I really thought about the ring, I was just taking my time with it because I wanted it to be special for her."
The "Read My Lips" artist had the following to say about her relationship with the music producer:
"You have to have a King in your Queendom, that's exactly what he is. That's what it's about for me. The guy that's at your house, or that's part of your home, and your strength in a sense, should be that. They should be the highest place in your mind."
Meanwhile rumors are flying around that Future who has two young kids with two different mothers might be seeing another woman while dating Ciara.
A person who claims to be the musician's side chick twitted:
"Can't wait to see the surprises my baby has set up for my birthday #November4th."
Ciara must be praying that this rumor is nothing but a rumor.