Christina Aguilera Performs on The Voice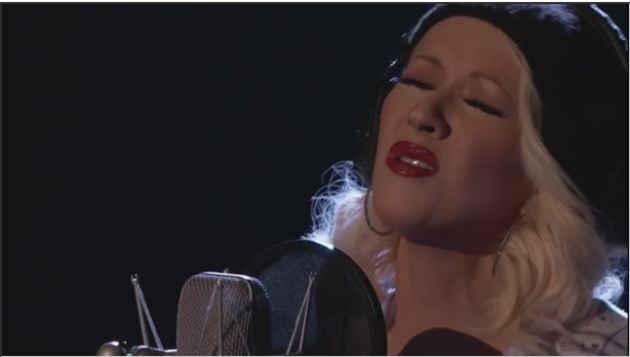 Christina Aguilera showed two very different sides of her personality on The Voice this week.
Earlier this evening, Miss Christina Aguilera joined her new favorite band in the world A Great Big World composed of Ian Axel and Chad Vaccarino to perform their freshly recorded duet "Say Something".
The "Mi Reflejo" artist took the stage which was decorated like a recording studio, dressed in a white t-shirt, black jeans and a winter bonnet she stood in front of a mic with a pair of headphones and whispered the sad tune.
The "Baby, It's Cold Outside" artist delivered a breathtaking performance which needed only a piano and a violin.
Songwriters Ian Axel and Chad Vaccarino who recently received a surprise call from the 32-year-old asking them to re-record the break up ballad spoke to Billboard about the big encounter:
"We look at Christina as this icon who can say anything and make it sound amazing.And here we are, just us and her in the studio, and she's asking our opinions on what sounds good, and everything out of her mouth was sounding good! Who are we to give Christina Aguilera vocal advice?"
The tear jerking "Say Something" (the song is currently sitting on the second spot on the iTunes Songs list) along with their chart topping single "This Is The New Year" will be included on the band's debut album "Is There Anybody Out There?," due out on January 2014.
Xtina who is set to win this season of The Voice thanks to contestants like Matthew Schuler (did you see his amazing performance Miley Cyrus "Wrecking Ball") and Jacquie Lee (who sang "I Put A Spell On You"), was a wild diva on Monday night.
She stormed on the set in a glitter/sheer bodysuit and belted out the dance tune "How I Feel" with Flo Rida who will release a new album titled "The Perfect 10" that will be out later this year.
You can watch Aguilera's performances after the jump.