Rihanna Shares Photos From 'What Now' Music Video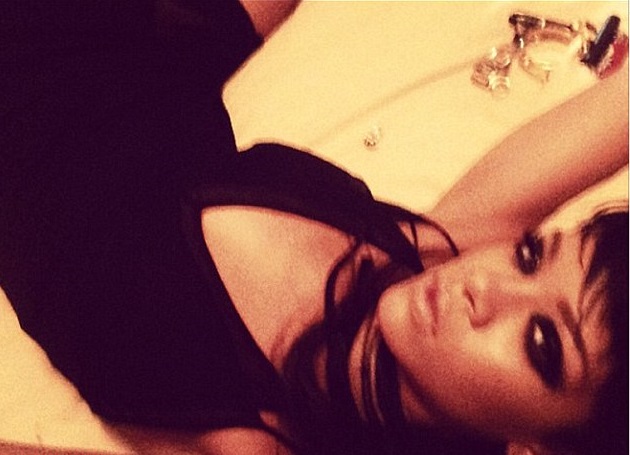 the
Via her Instagram account Rihanna has unveiled several black and white pictures taken from the set of the official music video for her fifth single entitled "What Now" that will be released this Friday.
The dramatic ballad partially focuses on her tumultuous relationship with Chris Brown.
The tune was written by Rihanna, Olivia Waithe, Parker Ighile and Nathan Cassells and is lifted from the Barbadian's singer seventh studio album Unapologetic.
The controversial Home actress can be seen in one photo in a lace dress, biker boots crouching down in a corner looking pensive (maybe she is wondering why did she get back with Chris Brown and should she rekindle her flame with Drake – the pair was spotted having dinner in Texas this week).
In another snapshot, the 25-year-old goth-chic entertainer showed off her 1980s mullet with her head raised to the sky as she blows out smoke from a funny cigar.
She captioned the sexy pictures:
#WhatNowVideo #Friday
Rihanna had previously stated that she shot numerous scenes for the project in Thailand (the photo of RiRi above was taken in the Asian country).
According to reports the diva will include footage from her Diamonds World tour which has thus far taken her to England, South Africa, Israel, Abu Dhabi and the Dominican Republic.
She is scheduled to storm over Oklahoma and Texas next week and wrap things up next month in order to concentrate on her eight studio album that will be released in 2014.
The Caribbean beauty is so often away from her Californian mansion that she has decided to rent it.
So how much do you need to call RiRi's palace chez moi? Just $65,000 per month.
After a series break ins by a stalker who allegedly wanted to sleep in Rihanna's California King bed, the songbird has announced that she is looking for someone to house sit her 11,000 sq ft, $12 million L.A. pad (equipped with an infinity pool, seven bedrooms and nine bathrooms).