R. Kelly Performs Medley of 'Genius,' 'My Story' Ft. 2 Chainz & 'You Deserve Better' On Jimmy Kimmel Live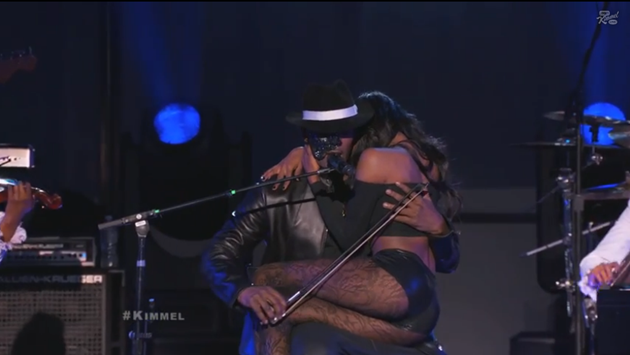 R. Kelly appeared and performed on ABC's Jimmy Kimmel Live on Wednesday night. The Pied of R&B totally owned the evening and probably got a nice lift from the showing.
Jimmy Kimmel even featured a segment where his other guest for the episode, British actor Benedict Cumberbatch read the lyrics from Kelly's new single "Genius." The skit has the potential to go viral.
Kelly who rarely does TV interviews sat down for a little chat with Kimmel revealing that his "Trapped in the Closet" series has a very bright future ahead.
Kellz said that he wants to turn the popular hip-hopera into a movie and take it to Broadway. The "Cookie" artist also spoke about singing in the subway before getting his recording contract.
The R&B star concluded the interview by explaining the origin of his new album's title "Black Panties." R&B fans probably heard these anecdotes few times before but it was nice of him to bring them to a wider audience.
The interview made him look human and accessible something people don't often get from the man known as the King of R&B. R. Kelly seems to be in a good mental space right now after years of keeping a low profile in the media.
R. Kelly performed a medley of songs from "Black Panties" after the talk with Jimmy with some help from rapper 2 Chainz. The "Share My Love" crooner tackled "Genius," "My Story" and "You Deserve Better."
R. Kelly's "Black Panties" album will be released on Tuesday. In addition to 2 Chainz, it features collaborations with Ludacris, Jeezy, Kelly Rowland, Future, Juicy J and Migos.
The three singles released so far are finally starting to move up on the charts after some well received guest appearances on Justin Bieber's "PYD," Lady Gaga's "Do What U Want" and Bruno Mars' "Gorilla Remix" with Pharell Williams.